You can stay near Tennoji Station! 5 recommended hotels and accommodations [also suitable for sightseeing and business]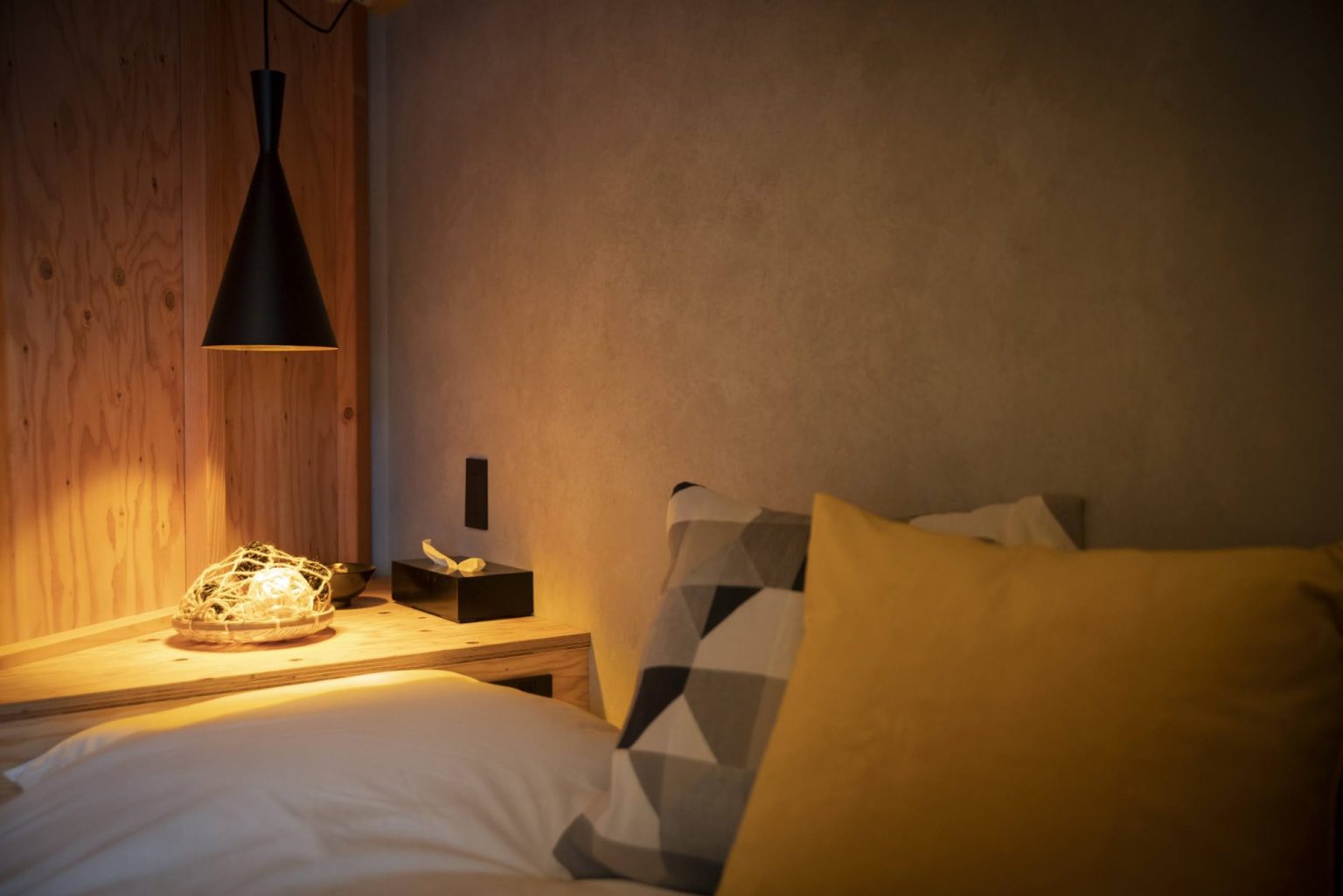 Tennoji area is within walking distance of major tourist attractions such as Abeno Harukas, Tennoji Zoo, Shinsekai, and Tsutenkaku. It also has good access to the city center, with approximately 15 minutes to Umeda Station and about 6 minutes to Namba Station. In this article, we will introduce five recommended hotels and accommodations in the Tennoji Station area.
* The budget mentioned for each is the lowest price for one room (2 persons, 1 night) as of September 2023.
1. CONTEXTED Osaka
CONTEXTED Osaka is an artful, fully-renovated lodging that was born from a 100-year-old row house. Within walking distance, you'll find shopping streets like Ikuno Hondori Shotengai and public baths. With a bit more walking, you can explore the Eastern Central Wholesale Market and Osaka Ikuno Koreatown. The facility offers independent row houses named "Sora," "Ten," and "Gen," each accommodating 7 to 8 people, with the option to book all three for a maximum of 23 guests. This is ideal for graduation trips, training camps, home parties, and more. The availability of a kitchen and washing machine makes it suitable for workations and long-term stays.
2. HOTEL 3 O'CLOCK TENNOJI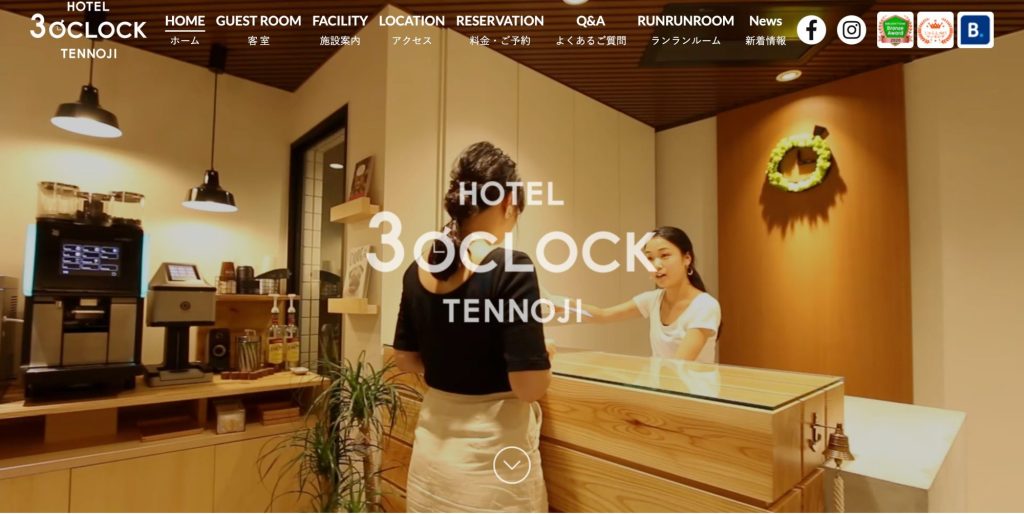 HOTEL 3 O'CLOCK TENNOJI is located near Tennoji Park.
It's named "3 O'CLOCK" to create a space for relaxing and enjoying a leisurely time.
The interior features warm wood-toned decor, creating a cozy atmosphere. The hotel offers 20 rooms, each with a unique theme, such as Sky, Ocean, Asian, and West Coast, ensuring a fresh experience with each visit. From the rooftop, you can enjoy views of Tennoji Park and Abeno Harukas, especially during sunset and evening.
3. HOPETREE Tennoji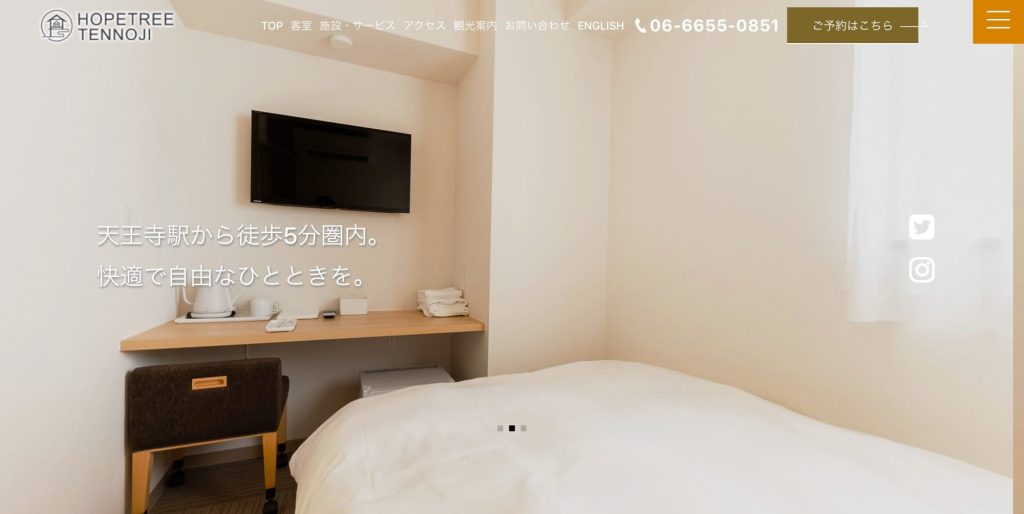 HOPETREE Tennoji is located about a 5-minute walk from Tennoji Station along the Yamato Line. It offers 35 individual rooms, all with semi-double beds, and accommodates up to 2 guests per room. The interior features a natural wood-toned and white theme, creating a comfortable and pleasant atmosphere.
Furthermore, each room is equipped with a television that allows you to watch internet videos, ensuring entertainment even on rainy days. This hotel is recommended for solo travelers, couples, and small groups on trips or business stays.
4. RTi Tennoji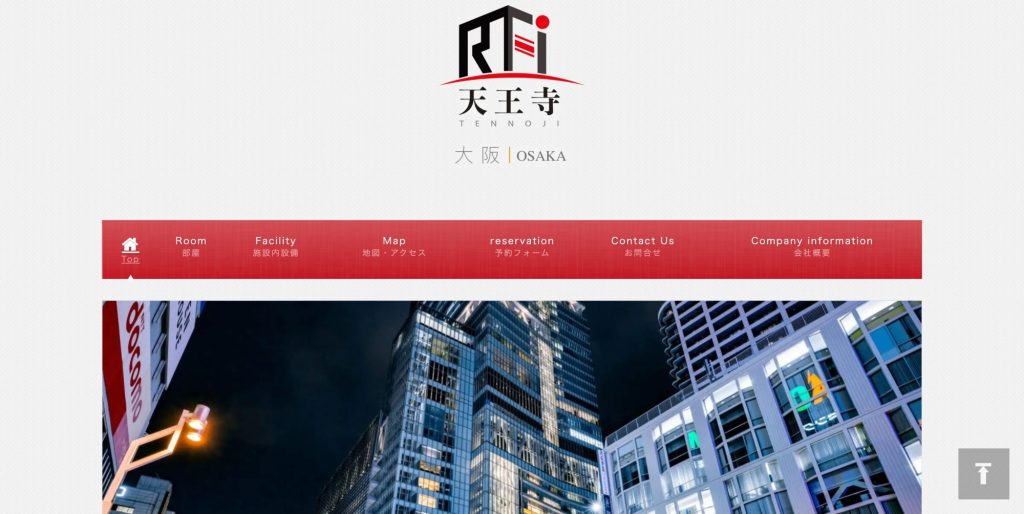 "RTi Tennoji" is a hotel with a condominium-style setup. The guest rooms are equipped with a microwave, stove, refrigerator, and kitchen. Additionally, there are two coin-operated laundromats (with drying functions) located behind the 1st-floor front desk, making it convenient for long-term stays in Osaka.
They have implemented a contactless check-in system, allowing guests to perform self-check-in and check-out using a tablet at the entrance.
Near the hotel, you'll find "Shinkaikan Shotengai" and "Yamao Ichiba Tsuushoutengai" shopping streets, along with public baths scattered around, providing you with the opportunity to explore the deep and less-known aspects of Osaka.
5. Hotel Shinpoin Osaka Tennoji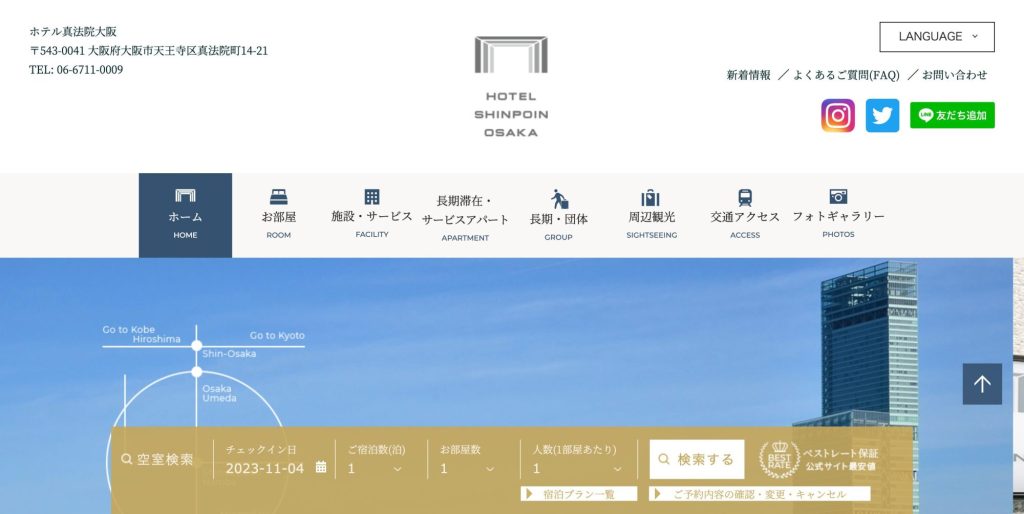 Located in the lesser-known upscale residential area of Osaka, Shinpoincho, "Hotel Shinpoin Osaka Tennoji" offers coin-operated laundry facilities, mini kitchens in each room, and the option to rent dishes and cooking utensils (for a fee), making it comfortable for extended stays.
The rooms are spacious with a sense of openness, all facing south. Sunlight streams in during the morning, creating a pleasant atmosphere. With separate bath and toilet areas and a spacious independent washbasin, it's stress-free even when staying with family or friends.
Conclusion
The Tennoji area offers numerous attractions, including Tennoji Zoo, Osaka City Museum of Fine Arts, and Tenshiba, all within Tennoji Park. Abeno Harukas, a convenient shopping destination, and a variety of dining options are also available. With excellent access to major train stations, Tennoji serves as a convenient base for exploring Osaka. Find the accommodation that suits you best and enjoy your trip to Osaka!